From Disaster to Hope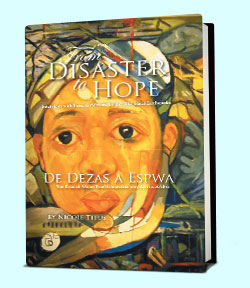 From Disaster to Hope is a series of interviews conducted by the author with 11 individuals affected by the January 12th, 2010 Haiti earthquake, including that of one man who landed in the country only hours before the quake. It contains the gripping reports of people who went to Haiti to help, as well as that of the Israeli UN Ambassador, and a current member of the peace keeping troupe.
De Dezas a Espwa se yon seri de entèvyou ke otè a fè avèk 11 moun tranblemandetè 12 janvye 2010 la te afekte, pami yo, yon moun ki debake ann Ayiti kèlkezè sèlman anvan tranblemandetè a. Li rapòte tou gwo eksperyans moun ki te ale ann Ayiti pou pote sekou, ansanm ak rapò anbasadè Izrayeli a, e pawòl yon manm MUNISTAH.
Witness how people rose From Disaster to Hope
---
The Prisoner of Jacmel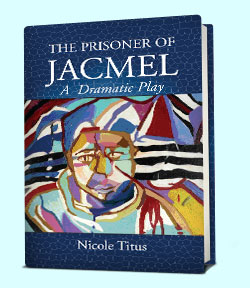 The Prisoner of Jacmel was written after a 1996 incident where 88 Haitian children died as a result of drinking contaminated cough syrup bottled in China. The incident was reported on 60 Minutes, and reappeared again in The New York Times in June of 2007.
The Prisoner of Jacmel is Ms. Titus' first play. It is a social and emotional drama that exploits the superstitious beliefs of the poor and those of a man caught in a psychological struggle for respect, dignity, and quiet existence. Nicole Titus has written a highly complex, and intricate, psychological masterpiece. Besides introducing the unforgettable main character, Fritz Genet, who, for personal reasons accepts to be blamed for murder, she introduces Theophile Rameau, a twenty-first century detective who specializes in resolving emotional dilemmas.
Nicole Titus admonishes us to do all that we can to love and protect our children, and to educate every member of our society.
Available at these online bookstores: